Souter Investments, the family investment office of Sir Brian Souter, is pleased to announce the addition of two investment executives to its team as it continues to grow its investment portfolio.

Stuart Callion joins as an Investment Manager from Deloitte, where he spent over four years as part of their Corporate Finance Advisory team in Edinburgh.  Whilst with Deloitte he focussed on mid-market M&A transactions – with both private equity and corporate clients. Stuart previously worked at PWC in London, spending time in both the Structured Finance and Audit groups.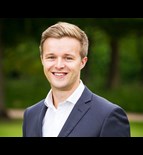 Joining as an Investment Analyst is Scott MacKenzie, whose background is in Transaction Services at Ernst and Young, having previously worked in EYs Financial Services Assurance business. 
Both qualified accountants, Stuart and Scott will work alongside Andy Macfie and his team as Souter Investments continues to grow and expand its diverse portfolio of investments.
Souter Investments makes investments across a broad range of asset classes, with a primary focus on private equity.
In a very active period covering 2014 and 2015, Souter Investments has added stakes in several unquoted companies to its portfolio, including AMA Group, the Edinburgh based property developer; Amerplast, the Finnish flexible packaging manufacturer; Voyage Care, the leading provider of support for people with learning difficulties, associated physical disabilities and complex needs; Fork Rent and One Call Hire, the construction equipment rental companies; and Mobius Life, a specialist investment administration platform and authorised unit-linked UK life insurance company.
In the transport sphere, Highland Global Transport has added intercity coach operators OnniBus.com (Finland), ManaBus.com (New Zealand) and SuperBus.com (Estonia) to the group, in addition to supporting the acquisition of two bolt-on businesses by its InMotion transport group in New Zealand, nakedbus.com and Reesby Buses.
These appointments increase the Souter Investments team, based in Edinburgh but operating globally, to ten executives plus Sir Brian Souter himself.
Notes for Editors:
Souter Investments is the family investment office of Sir Brian Souter, co-founder and Chairman of Stagecoach Group plc.  It makes investments across a broad range of asset classes, with a primary focus on private equity, but it also maintains allocations to other asset classes such as private equity funds, listed equities and property.
Transport investments are made by Souter Investments' sister company, Highland Global Transport.
Together, Souter Investments and Highland Global Transport hold equity investments in approximately 30 unquoted companies.
Outside of transport the unquoted portfolio includes holdings in Baywater Healthcare, the leading UK homecare provider; First Scottish Group, Scotland's leading independent property, title and legal search provider; Virgin Mobile Latin America, a mobile virtual network operator in Chile, Columbia and Mexico; and OTEAC, the Aberdeen based oil services business which recently acquired HVAC&R.
Unquoted transport investments include New Zealand based urban bus operators Mana Coach Services, Howick and Eastern Buses and Reesby Buses; Auckland based ferry businesses Fullers Group and 360 Discovery; and long-distance express coach operators ManaBus.com and nakedbus.com. In Europe, Highland Global Transport holds stakes in intercity express coach operators PolskiBus.com, OnniBus.com and SuperBus.com; in leading international bus and coach manufacturer Alexander Dennis; and in the Turkish ferry operator Istanbul Deniz Otobusleri.